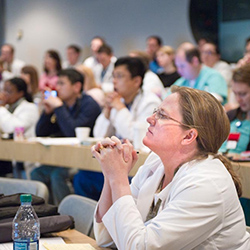 Our innovative didactics prepare our residents for practicing independently and for passing the board exam. Since 2011, we have utilized an Academic Half Day, which includes pre-reading allows residents to come together to learn from the best teachers across our community. This, combined with other board preparation resources, has lead to a board pass rate of over 90 percent for the last five years.
We are national leaders in education on Quality Improvement (QI) and patient safety. Beginning as a key part of our Education Innovation Project (EIP) application, we have evolved into having a chief resident in Quality and Safety, safety consults, monthly patient safety conferences and an institution wide Annual Housestaff Quality and Safety Day. QI education is integrated throughout the three years with focused time during the four week longitudinal "BETTER" curriculum, where each resident participates in interactive sessions applying QI principles to the local context and completes a mentored project linked to an institutional priority.
We also have numerous retreats and events to recognize our residents, build our community and supplement the curriculum.