Selection Criteria
We are looking for self-motivated individuals who are committed to their own excellence; people who practice continuous improvement based on their own reflection on feedback; recognize the importance of wellness and teamwork in maintaining themselves and others in this challenging career; are focused on providing excellent care for the patients they meet and have the privilege for caring for; as well as those who act on their intense curiosity to learn every day.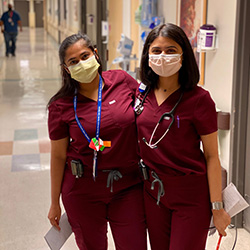 If you are motivated to learn from every experience and are committed to high value, patient-centered, innovative patient care as part of well-functioning team, we encourage you to consider our program. You will find that training in internal medicine with our program is a positive and educationally rewarding experience.
Interested candidates will need to create an account with the Electronic Residency Application Service (ERAS) program from the Association of American Medical Colleges (AAMC). Candidates can access the ERAS program by visiting AAMC FREIDA, program code: 1400321025.
If you are strongly considering a career in primary care/ambulatory medicine, we recommend applying within ERAS to both our Categorical Program and Primary Care Track.
Application Requirements
Applications must be submitted through ERAS*.
Minimum of three (3) letters of recommendation (up to 4 may be submitted).

One of these should be your Chair Letter/Standardized Letter of Evaluation.
Three letters from faculty who know you personally are recommended.

Medical Licensing Exams:

Having both steps/levels of your licensing exam (USMLE 1 & 2 or COMLEX 1 & 2) available as early as possible in the interview season strengthens your application and is helpful to be considered for an interview.
While we do not have strict exam cut-offs, having a strong Step 2 or COMLEX 2 Score strengthens your application.
Passing scores on USMLE 1 & 2 or COMLEX 1 & 2 must be uploaded to ERAS by early February to be considered for ranking by our program.  Applicants who do not have a passing score on Step/Level 2 available before rank list submission will not be considered for ranking. 

Applicants must have graduated within the last two years.
We do consider exceptionally qualified International Medical Graduates: 

J1 Visa's sponsored by the ECFMG
Must have graduated within the past three years.
We require ECFMG certification before the start of program.
Applicants should have substantial and creditable hands-on clinical experiences of at least two months in the U.S. within the last three years.
Banner University Medical Center does not sponsor any other visas besides J1.
Program Signals
Our IM program does participate in program signaling within the ERAS application.
We welcome program signals from applicants who are genuinely interested in our program, as we always seek to recruit candidates whose interests and experiences align with our location, setting, mission, and values. 
A program signal is not required to be considered for an interview, nor does a signal guarantee an interview.  
In alignment with the Alliance for Academic Internal Medicine, we encourage applicants to use their program signals to indicate their genuine interest in specific residency programs.  
We know the residency application and matching process can be stressful, and our program is committed to transparency and fairness. We perform holistic review of applications submitted to our program. This is a time-intensive process due the large number of applications we receive, but we feel it is important to ensure that we are considering all well-qualified candidates who are interested in our program.
In addition, we extend interview invitations only to the number of candidates that we have the capacity to interview. Interview invitations are extended in several rounds over the course of the fall to allow for ongoing holistic review and to ensure invitations are not exceeding the number of available interview slots.
Student Rotations
Applications are accepted only through Visiting Student Application Service (VSASSM), University of Arizona College of Medicine – Phoenix. 
Contact