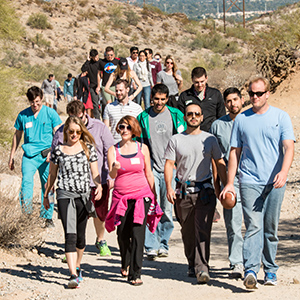 We understand that residency is a challenging time with intense work and responsibility. However, it is also immensely rewarding, and we will support and mentor you all the way through.
As a program, we are committed to you not only being well-trained and providing excellent patient care, but also loving your work more when you leave than when you arrived. Our phenomenal residents are committed, passionate, caring and kind.
Educational Program Highlights
Innovative curriculum and assessment facilitated by our national involvement in the ACGME's Educational Innovations Project and other multi-centered initiatives.
 
Appropriate supervision and graduated autonomy based on your stage of training, as well as actionable feedback to help you continue to develop as a physician.
 
Optimized schedules that balance patient continuity, work hours and your wellness.
 
Multiple formats to support you gaining the medical knowledge and skills needed to provide excellent care, including a state-of-the-art simulation center, innovative didactics, ABIM board preparation, POCUS/Procedure training and extensive elective options.
Individualized experience to match your career goals — whether it be ambulatory care, hospital medicine, subspecialty fellowship or academic medicine.
 
Supportive faculty who love our work, we are committed to excellence as teachers, physicians and people.
 
With a program culture of continuous improvement, we are highly engaged in these goals and committed to continually improving.