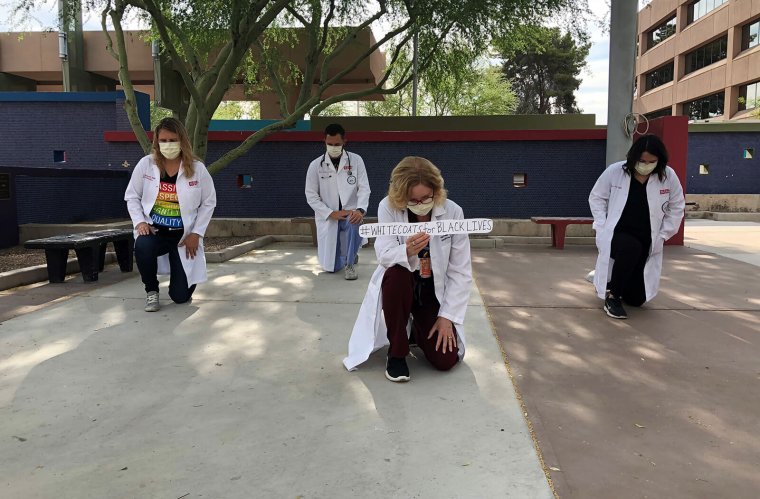 Our Internal Medicine Programs — Categorical, Primary Care, Preliminary and Med-Peds — have a shared vision to attract, develop, excite and retain exceptional people in our programs and community. We want to recruit a diverse group of faculty, residents and students that make substantial, lasting impact to create an inclusive environment where all students, residents/fellows, faculty and staff will thrive.
We have a Graduate Medical Education Diversity and Inclusion Subcommittee composed of faculty and residents from all programs that advises our institution in planning various activities to advance our mission as GME programs, as well as Internal Medicine program leaders who are committed to this work.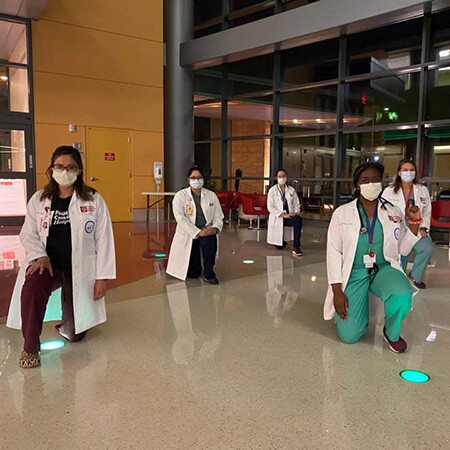 Some of our program activities include:
At Banner University Medical Center 
Women Elevating Women in Medicine – support, and mentorship for female residents and fellows from faculty physicians.
Justice, Equity, Diversity, and Inclusion (JEDI) Elective (runs January to May, open to med/peds residents): month-long elective incorporating focused curriculum, experiential learning, community and state legislative engagement, and ambulatory clinic.
Housestaff Council and Diversity Subcommittee allow residents to participate in institutional support of  DEI Initiatives. 
Medical Spanish curriculum is available to residents, students, and faculty.
Volunteer for Street Medicine – weekly sessions with faculty from the University of Arizona College of Medicine – Phoenix providing care to our homeless population.
Anonymously Report a GME concern – allows residents and fellows to submit any concerns to our GME leadership team anonymously without fear of retaliation. 
Unconscious bias workshops for residents and faculty.
Integrating DEI into journal club (Bias in medicine impacting SLE care) and Ambulatory Curriculum.
CANDOR training for faculty and residents.
Faculty participation and mentorship in various medical student organizations committed to celebrating diversity.
All Internal Medicine Grand Rounds presentations include a discussion on disparities in medicine and/or health care, as well as steps toward mitigation.
Program-sponsored social justice and advocacy events
Underrepresented minority (URM) student, resident, and faculty panel discussions with community leaders to promote social justice initiatives.
 
At Phoenix Children's Hospital (PCH) 
Medical Student Stipend for those doing an away rotation at PCH.
Statewide events with each AZ medical school's LMSA and SNMA chapters.
Participation in LMSA and SNMA regional conferences (mainly hosted in CA).
Resident and faculty participation at LMSA and SNMA national meetings.
Social mixers.
Women Elevating Women in Medicine – support for female residents and fellows under the mentorship of faculty physicians.
Health Equity Pearl curriculum: Residents will vote on residency-wide projects for the 2023-2024 academic year to bridge the Health Equity Pearl curriculum with a specific action plan.
We invite you to join our mission of creating an *environment of inclusivity and support as we all work to promote equity within healthcare and a learning environment that brings out the best in each of us.
*The University of Arizona College of Medicine – Phoenix has made a commitment to inclusive excellence. It is outlined in our 12 Action Steps, as well as our Statement on Racism.