A Welcome from Dr. Preston
Thank you for your interest in our Phoenix Integrated Surgical Residency (PISR). I hope that as you research our program you see that we provide a unique training experience created by our strong community partnerships, diverse patient populations and clinical settings, dedicated faculty and a culture that prioritizes team work, teaching and camaraderie.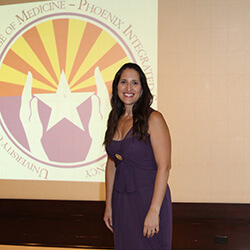 Our program is one of the first training programs in the Southwest and has a rich history of training general surgeons who are prepared to enter general surgery practice, or start fellowship upon graduation. We pride ourselves in giving each resident the experience, knowledge and training they need to become independent, confident and technically proficient general surgeons. We are able to do that largely because of the diverse training experience our residents receive between the academic medical center, Banner – University Medical Center Phoenix, and our strong community partnerships with the Phoenix VA Health Care System and Banner Desert Medical Center. In addition, our residents have been rotating at the Alaska Native Medical Center in Anchorage for nearly 20 years. This provides a very high volume, busy rural type practice with a truly unique patient population. Lastly, our academic medical center has very few fellows, which allows for significant autonomy for our residents in their PGY4 and PGY5 years.
As we continue to focus on our commitment to train general surgeons and to fill a national need for more rural trained surgeons, we are excited about our newly developed dedicated rural surgery training track in Billings, Montana. This will be a year-long experience for a PGY4 resident, who will learn all the skills necessary to be a successful general surgeon in a rural practice. This will include exposure to surgery at Critical Access Hospitals in Montana and subspecialty training in neurosurgery, orthopedics, urology and OB/GYN.
While I believe the clinical training in our program is exceptional, what I am most proud of as the program director is the culture of our program. Our residents are one of a kind. They enjoy working with each other, they watch out for each other and they truly take care of each other. That is something you don't find every day in a surgery training program. We also strongly prioritize education. This is not just in the form of the program providing the education necessary to become a competent general surgeon, but we also prioritize resident to resident and resident to medical student education. We have developed a wellness program that is run entirely on initiatives the residents have identified as helpful to their wellness. It's very difficult to find the right words to describe the culture of our program, but I hope that as you learn more about our program and meet with our residents, you will see this for yourself!
On behalf of our residents and faculty, thank you for your interest in our program. We look forward to learning more about you!
Regards,
Jennifer Preston MD
Program Director