Recent Highlights
Congrats to all of the Internal Medicine faculty who were featured as Top Docs for 2023 in Phoenix Magazine!
Nimit Agwarwal, MD, and Kristina Balangue, MD – Geriatrics.
Harvey Hsu, MD – Internal Health.
Wilbur Su, MD – Cardiac Electrophysiology (Celebrating 10 years in the issue).
Gregory Chu, MD – Critical Care Medicine.
Ruth Franks Snedecor, MD – Hospital Medicine.
Joyce Lee-Iannotti, MD – Sleep Medicine.
Trent Smith, MD – Rheumatology.
Lindsay Ackerman, MD – Dermatology (Celebrating 10 years in the issue).
Awards

We would like to congratulate the following faculty (pictured above in the order listed) on the awards they received for their exceptional teaching and work within our Graduate Medical Education (GME) programs.
Christina Bergin, MD, director of the Internal Medicine Clerkship, was honored with the Excellence in Teaching by a Clerkship for 2021–2022.
Donna Holland, MD, program director for the Internal Medicine Residency, was awarded the Excellence in Teaching in GME for 2021–2022.
The second-year medical students at the UArizona College of Medicine – Phoenix selected Elise Barney, DO, as their Educator of the Year.
Chirag Kapadia, MD, was selected as the Resident of the Year by American College of Physicians Arizona Chapter in October 2022.
News
Congratulations to Denege Ward-Wright, MD, and Nafis Shamsid-Deen, MD! Dr. Ward-Wright was named the inaugural Department of Internal Medicine vice chair for Justice, Equity, Diversity and Inclusion (JEDI); and Dr. Shamsid-Deen has been named chair of the GME Equity, Diversity and Inclusion Committee.
Congratulations to all the Department of Internal Medicine faculty, housestaff and students for their winning abstracts at the 2022 ROME Forum.

Interpreting Entrustable Professional Activity (EPA) Assessments Before, During, and After COVID-19 Pandemic – Jordan Coulston, MD, Chengcheng Hu, PhD, Adam Health, MD, Sheetal Shah, DO, Maria Castro, MD, Marícela Moffitt MD, MPH
Quality Improvement Projects in Undergraduate Medical Education: A Summary of Projects – Alvin Gibson Wong, MD, Janet Mauer, MD, Kimberly Bader, MD, Chelsea Carlson, MD, Jordan Coulston, MD.
Evaluating the Impact of Tactile Learning through 3D Models of Congenital Abnormalities on Understanding Complex Cardiac Pathology – Vrishti Shah, MS3, Elise Barney, MD, Kevin Vo, MS2.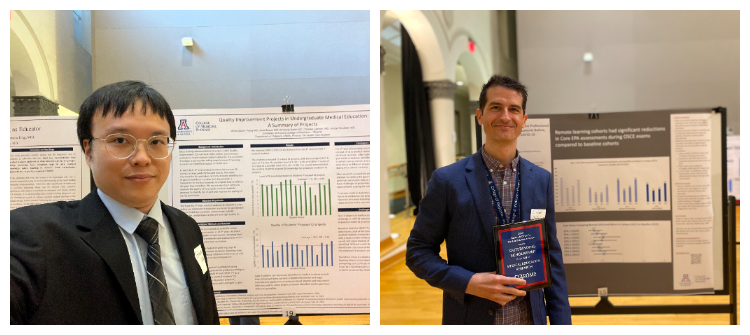 Alvin Gibson Wong, MD, and Jordan Coulston, MD
---
If you would like your news or highlights to be featured on the Department of Internal Medicine website, or if you would like to receive our Quarterly Newsletter (PDF), please contact Veronica Nundahl.
When sending, please use on the Subject line: Share my News.