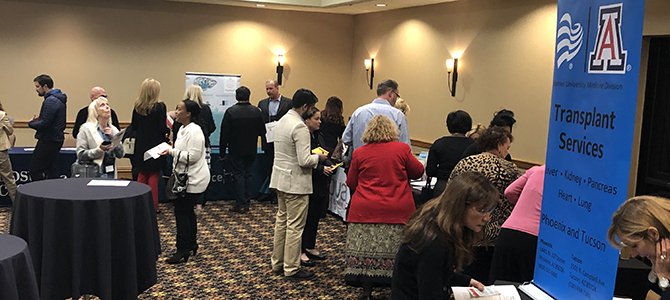 Recent Highlights
Clinical Trials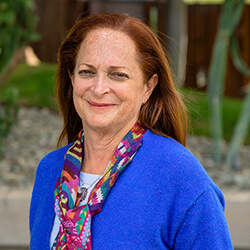 In the inpatient setting, the College of Medicine – Phoenix has successfully enrolled and treated 25 patients in the Tocilizumab study sponsored by Genentech under the direction of Marilyn Glassberg, MD, chief of Pulmonology, Critical Care and Sleep Medicine. In addition, Thomas Ardiles, MD, and study team were the first in the nation to enroll subjects and are still actively recruiting for a trial evaluating inhaled nitric oxide in mild to moderate COVID-19 patients.
Other inpatient trials actively recruiting include Kinevant, which is aimed at assessing the safety and efficacy of Gimsilumab in subjects with acute lung injury or ARDS, and Celularity, evaluating the efficacy of natural killer cell infusions in adults with COVID-19.
In the outpatient setting, investigators are working with Eli Lilly, to assess the efficacy of potential monoclonal antibodies for the treatment of mild to moderate COVID-19. Several convalescent plasma studies are currently in start-up and include collaborations with Johns Hopkins University, the Dolly Parton COVID-19 Research Fund, and the NIH. College of Medicine – Phoenix and Banner – UMC Phoenix research teams are also participating in a multi-center, observational study aimed at identifying predictors of severe COVID-19 outcomes. The College of Medicine – Phoenix biorepository team is actively collecting blood samples from patients admitted and diagnosed with COVID-19 for future investigation.
Additional Highlights
On May 11, during the college's virtual graduation ceremony, Maricela Moffitt, MD, MPH, professor of Internal Medicine, was awarded the Stuart D. Flynn, MD, Master Educator teaching excellence award.
 
From a high volume of applicants, Ricardo Correa, MD, was appointed to the Alliance for Academic Internal Medicine Health Disparities Collaborative Learning Community (CLC) for his efforts with minorities and health care disparities in Graduate Medical Education.
 
July of 2019, the Internal Medicine Center welcomed Jennifer Nelson, DO, to the clinic. Dr. Nelson is a graduate of the the Internal Medicine Residency at the UA College of Medicine – Phoenix. During her time with the program, she served as one of the chief residents, focusing on quality improvement and patient care at the hospital.
 
In May, 2019, work being done by Radha Gopalan, MD, and Robin Blackstone, MD, to help obese patients become eligible for heart transplants was featured in Modern Healthcare.
 
Guadalupe Federico, PhD, was selected to receive the 2019 Maria Teresa Velez Outstanding Mentor Award by the UA Commission on the Status of Women (CSW). The prestigious award honors individuals who have significantly demonstrated an outstanding commitment to mentoring and who are making a difference within the University of Arizona. She will be presented the award during a ceremony on April 9.
 

Banner Southwest Liver Disease Symposium

On February 23, 2019, the 13th annual Banner Southwest Liver Disease Symposium (pictured above and to the right) was held. A panel of nationally recognized speakers provided updates on treatment, controversies and best practices for conditions that affect patients with liver disease. This year, there were state-of-the-art lectures and updates on non-alcoholic steatohepatitis (NASH), hepatocellular carcinoma (HCC), hepatitis B, PBC and PSC, coagulation in Liver Disease, as well as hepatology emergencies. The course — which was held at the Scottsdale Resort at McCormick Ranch — had a record attendance with 115 registrants. This annual symposium highlights the Banner and UA College of Medicine – Phoenix commitment to improving the health of patients with liver disease and the dissemination of medical knowledge to the community. The Advanced Liver Disease Center and Banner Transplant Institute are growing at an extraordinary rate. In 2018, the facilities performed 120 liver transplants, ranking them 15th in the nation for volume. Both continue to provide quality and compassionate care to a complex and challenging patient populations, while maintaining excellent outcomes.
 
Residents and faculty from the UA College of Medicine – Phoenix's Internal Medicine Residency took top honors in an academic competition at the American College of Physicians.

Audrey Lee, MD, received first place in the Patient Safety/Quality Improvement Poster competition.
Tae Change, MD, placed first in the PGY1 Poster competition.
Waseem Albasha, MD, Cris Molina, MD, and Maria Martin, MD, placed first in the Doctors' Dilemma competition.
Allison Bigeh, DO, placed second in the Oral Clinical Vignette competition.
Victor Karikari, DO, placed third in the Case Report Poster competition.
Cheryl O'Malley, MD, FACP, was awarded Chapter Laureate.
Michael Fallon, MD,  FACP, was named Researcher of the Year.