It is the policy of the University of Arizona College of Medicine – Phoenix (COM – P) to require ethical behavior, professionalism and integrity from every individual. The required behaviors and attitudes include those identified in the State, University and College-specific policies and statements listed below and allow for mechanisms whereby formal disciplinary actions may be taken.
State of Arizona: Arizona Revised Statute Chapter 13 Unprofessional Conduct (A.R.S. § 32-1401).
University of Arizona: Arizona Board of Regents Chapter 5 Student Code of Conduct (ABOR 5-301 through 5-404).
College of Medicine – Phoenix:
Process
Student professionalism is assessed and responded to as outlined in the processes of the Competency Assessment Policy and Honor Code Policy.
Professionalism among faculty, residents, fellows and other members of the learning environment are assessed through written evaluations completed by students, verbal reports and the professionalism comment form. The leadership of the Office of Academic Affairs, supported by the Office of Assessment and Evaluation and the Professional Resource Office (PRO), review and flag evaluations for potential professionalism and student mistreatment issues. This includes:
Red flags: Comments that raise serious concerns, such as clearly inappropriate behavior, activities that may present a risk of serious physical or emotional harm to a student or others, or activities that violate UA or COM – P policies and require reporting. In most cases, these will have been addressed by the time the evaluations are circulated under the policy.
Yellow flags: Comments that describe behavior that may interfere with or not support a strong teaching and learning environment. These can include repeated or significant abrasive behaviors, humiliating students and similar behaviors.
Other comments: Comments that do not raise a red or yellow flag, but present an isolated or lower-level concern that may merit monitoring.
The red and yellow flag concerns as well as other targeted issues are shared with Clerkship Directors and College of Medicine – Phoenix Department Chairs for appropriate feedback and action. The Associate Dean, Clinical and Competency Based Education provides support and assistance in this area. Additional support and resources are available from the Professional Resource Office liaisons and the Office of Faculty Affairs and Development.
Process for Faculty, Resident and Fellow Professionalism Feedback and Remediation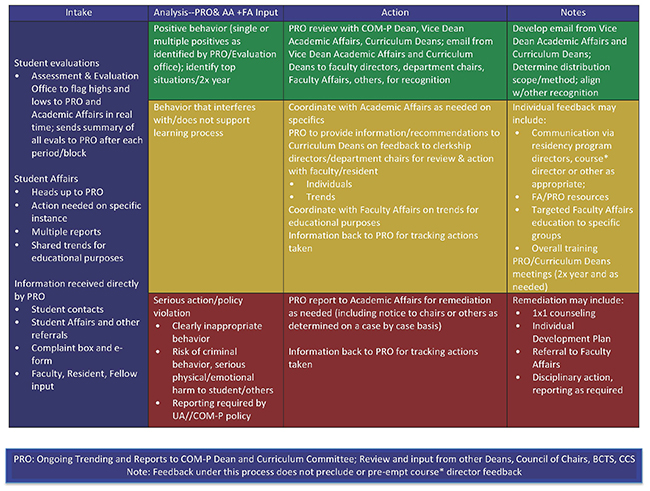 Click to enlarge
Curriculum Committee

:
Approved
08/28/2018