Translational Cardiovascular Research Center Monthly Seminar Series
Wednesday, November 9, 2022 12:00 PM to 1:00 PM
The University of Arizona College of Medicine – Phoenix Translational Cardiovascular Research Center (TCRC) presents this monthly seminar series, which will cover diverse topics in Translational Cardiovascular research.
Presenter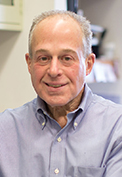 Richard Kitsis, MD
Professor, Department of Medicine and Cell Biology, Albert Einstein College of Medicine, Jack and Pearl Resnick Campus
Seminar Title
Faculty Hosts
For additional information, please contact Tina Allen, administrative assistant for the TCRC, 602-827-3240. This seminar will be hybrid.