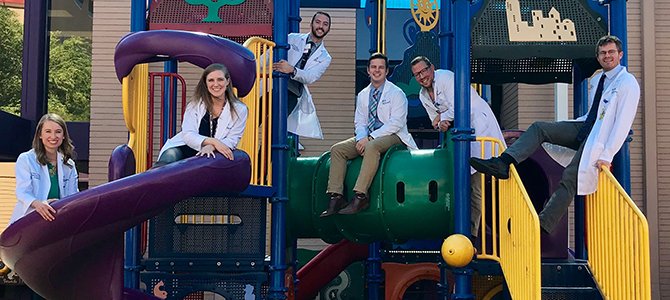 Special Program Benefits
Quality Improvement/Patient Safety – Chief resident in Quality and Safety, monthly conferences, mentored projects, IHI curriculum, involvement in hospital committees/ initiatives, annual House staff.
 
Quality and Safety Day – BETTER curriculum, specifically emphasizing scholarly work, Quality Improvement, the business of medicine, professional well-being and humanism in medicine.
 
Active in National Collaboratives – ACGME Educational Innovations Project, iCOMPARE, Milestones, High Value Care.
 
High Quality Innovative Curriculum – Academic Half day, simulation center, audience response, BETTER curriculum, morning report, grand rounds journal club, patient safety conference, retreats.
 
Structured Board Prep – MKSAP, IM Awesome Board review, Pediatric MedStudy, Peds HIPPO, Peds RAP, PREP, Peds Board Review and individualized educational plans.
 
Resident Wellness – Free anonymous counseling services, on-site workout facility and resident wellness space, comfortable work space, discounts to gym memberships and yoga studios, generous food stipend, social activities, community service events, as well as retreats.
 
Fellowship Preparation and Career Development – Research collaboration, away rotations, interview preparation, CV/resume preparation.