Reimagine Phoenix
"Necessity is the mother of invention." — Unknown
As with many brilliant ideas, the "reimagine Phoenix – It's All Here" campaign originated at the intersection of necessity and opportunity.
The College of Medicine – Phoenix is suffering from an identity crisis. We are no longer a "new" college, having nearly completed our 11th year, yet we remain unknown to a large portion of the community as well as to our industry peers. Many have no idea that we earned separate accreditation in fall 2017.
We are also overshadowed by ASU's ongoing strategy to enhance its presence on the downtown campus through advertising and media, as well as new partnerships and facilities.
Necessity
We recognized the need to build a stronger brand, elevate brand awareness and demonstrate our success in innovating medical education. Having earned separate accreditation, it is important to establish the College of Medicine – Phoenix as a thought leader in specific areas that will distinguish the college among its peer institutions and elevate its reputation.
Leaders from the Medical College of Wisconsin shared their brand experience at the 2018 National Professional Development Conference for Institutional Advancement organized by the AAMC. They hired a consultant firm to conduct a brand assessment, and the findings were astounding. They too suffered from an identity crisis with a brand that they defined as having been "asleep for 123 years." We recognized many similarities between the brand experience of MCW and COM-P, which inspired us to take action. We did not have $3 million to invest in hiring a consulting firm, so we leveraged the expertise of our own team and developed a brand strategy with a corresponding brand campaign.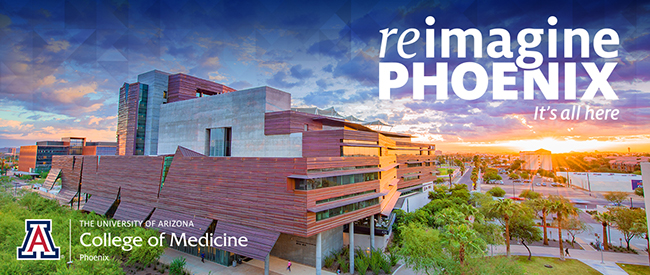 Opportunity
Learn Serve Lead 2019 will be held in Phoenix. This AAMC flagship event is unique in bringing together diverse stakeholders, including medical school deans, hospital CEOs, university and hospital administrators, faculty, physicians, scientists, researchers, physician residents and students to advance new ideas by working and learning together.
The signature learning and networking event for all who care about the future of academic medicine will draw over 5,000 leaders to Phoenix. It will provide a wonderful opportunity to showcase Phoenix — and the college. We will highlight the college's integral role as an academic medical center and demonstrate the successful model that we have developed along with our partners.
To build excitement about next year's conference, we will have a booth at Learn Serve Lead 2018 in Austin. There, we will share information about our community, collaborations, research, medical education and thought leadership. The Reimagine Medicine podcast will also be promoted at the conference.
Strategy
Messaging
We are challenging people to reimagine their perceptions of Phoenix. The city has become the center of a bioscience knowledge community — a collaborative environment fueling world-class discovery in medicine from bench to bedside. Downtown Phoenix offers a vibrant energy with a diverse array of things to do and learn. Those who think they know Phoenix really do owe it to themselves to reimagine this dynamic community. It's all here.
The City of Phoenix had a bold vision — to develop a biosciences campus that would bring together visionaries in health care. These leaders would create unparalleled collaboration, build infrastructure and generate synergies. The vision is now a reality.
It's all here. World-class researchers, innovators, clinicians, administrators and educators work in a dynamic environment dedicated to improving health care throughout Arizona — and across the world. Together, we are preparing future physician-scientists to advance health care and improve lives.
Campaign Brand Elements
Logo.
Email signature.
Newsletter headers.
PowerPoint template.
Social media headers.
Signage for campus and buildings (coming in 2019).
Reimagine Medicine Podcast