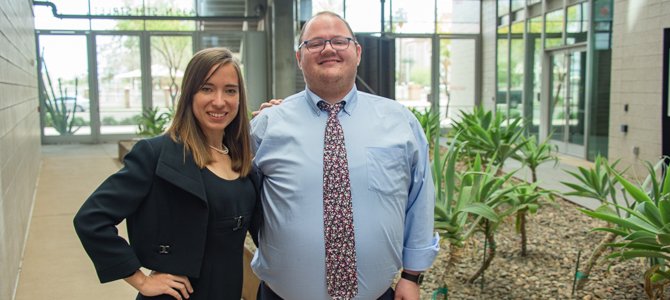 Students Present Scholarly Projects at Research Symposium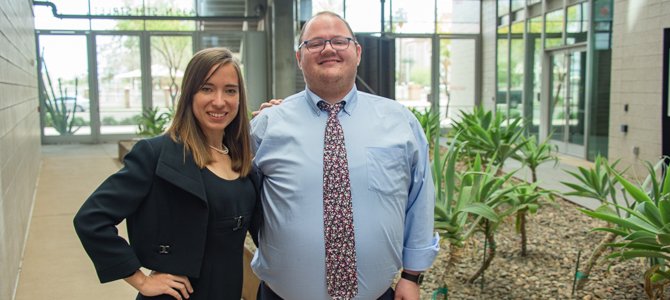 Students Conduct High-Level Academic Research over the Course of Four Years of Medical School
Fourth-year medical students at the University of Arizona College of Medicine – Phoenix presented their hypothesis-driven research projects March 7 at the annual Student Research Symposium.
Each College of Medicine – Phoenix student is required to complete a longitudinal Scholarly Project that culminates in a final thesis. The project must be medically related, mentored and involve a research question, hypothesis and data collection.
"Our goal is to give students skills for critical thinking, lifelong learning, problem solving and communication," said Matthew McEchron, PhD, director of Scholarly Projects. "We also aim to engender evidence-based medical practice strategies. This provides an advantage for our students when they apply to residency. It's one of the several pieces that allows them to show off their skills of problem solving and academic thinking, which most residencies look at."
The medical school is one of just four in the country that requires a longitudinal, hypothesis-driven project with a final thesis component. About one third of medical schools require some scholarly activity, which can take on many different forms. At the UA College of Medicine – Phoenix, the scholarly project is designed to enhance students' academic careers as future physicians and improve the health of Arizonans.
Five students were chosen to deliver oral slide presentations:
Haig Aintablian.

Mentor: Kurt Gustin, PhD.
Project: Transcriptional Regulation of the Type I Interferon Response by a Nuclear Pore Protein.

Catherine Hermann.

Mentor: John Elliott, MD.
Project: Outcome of Cervical Cerclage in Twin Pregnancies for Treatment of Ultrasound Detected Short Cervix.

Daniel Kim.

Mentor: Jorge Arango, MD.
Project: Assessing Symptomatic and Functional Improvement after Posterior Fossa Decompression in Chiari-I Malformation Patients.

Ravikumar Patel.

Mentor: Michael Saubolle, PhD.
Project: Rapid PCR TB Testing Results in 66 Percent Reduction in Total Isolation Days in Smear Positive Patients.

Alona Sukhina.

Mentor: Jonathan Lifshitz, PhD.
Project: The Relationship between Traumatic Brain Injuries and Hypopituitarism in Children.
Bentley Bobrow, MD, medical director for the Arizona Department of Health Services' Bureau of EMS and Trauma System, associate director of the Arizona Emergency Medicine Research Center – Phoenix and an emergency medicine professor at the college, delivered the keynote presentation, "EMS Research: Why You Should Care."
He encouraged students to continue to seek out research opportunities.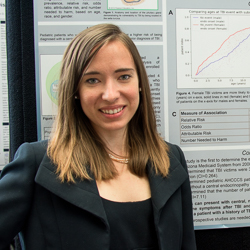 "Research and asking questions can really help improve your understanding," he said. "I didn't realize research could also improve my job satisfaction. You can be part of advancing and even changing the science of medicine."
Alona Sukhina worked with Jonathan Lifshitz, PhD, on her project to understand endocrine disorders in children with traumatic brain injury (TBI). If a child has a TBI, no guidelines exist for when to detect an endocrine disorder, even though these guidelines exist for adult populations.
Sukhina and Dr. Lifshitz accessed records of 650,000 patients through the Arizona Health Care Cost Containment System (AHCCCS), looking for cases of children under 18 with a TBI code. Their research determined that children who suffered a TBI have a 3.18-times higher risk of developing a central endocrinopathy, or disease of an endocrine gland, compared with the general population. That means one in 154.2 children with a TBI will develop an endocrine issue serious enough to influence puberty, growth, metabolism and disease over the course of their lives.
"The data can impact this relatively young field and help guide treatment plans that reduce the morbidity of children who have experienced TBI," Sukhina said.
According to Dr. Lifshitz, pediatricians, endocrinologists and neurologists can apply the epidemiological data from Sukhina's project to guide aftercare instructions for children with a TBI, encouraging them to seek endocrine evaluations to ensure healthy development.
"The Scholarly Project helped instigate projects not only in Dr. Lifshitz's lab, but also helped connect me with amazing physicians, statisticians and epidemiologists," Sukhina said. "I hope to expand my research further in residency and start a prospective trial by recruiting children who have experienced a TBI and screening and treating them for endocrinopathies, and helping to develop screening guidelines for these patients."
Fourth-year student Alex Geiger worked with Sarah Coles, MD, to develop a mixed-methods study that examined reproductive health and family planning care for transgender men.
"The project seemed like a natural merger of my two passions — trans health and reproductive justice," Geiger said. "Transgender individuals are less likely to finish high school, let alone go on to pursue higher education. As a transgender man who is about to become an MD, I felt moved to leverage my privilege to give back to my community and make a difference."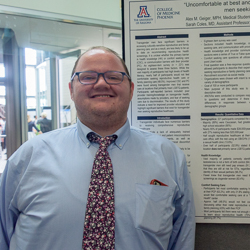 One of Geiger's biggest findings was that transgender men have a high level of reproductive health literacy. Many also desire to have children, including their own biologically related children, but felt that their health care providers often assume the opposite.
Geiger said that unfortunately, the vast majority of participants had very poor experiences seeking reproductive health care. Trans men often felt that their providers did not have the knowledge needed to care for transgender patients and made erroneous assumptions about their sexual practices and family planning desires. Furthermore, most had experienced either insensitive or discriminatory care at some point; some had even been refused care because they are transgender.
"My Scholarly Project taught me a lot about resiliency," he said. "It was admittedly a little ambitious to design and execute my own study from start to finish, and there were times in the third and fourth year where I was mentally exhausted and wanted to scale back my plans. However, now that I'm on the other side, and have successfully finished nearly all of my SP requirements, I am really proud of my project and glad I saw it through. I have a product that I know will make a difference in caring for transgender patients."
Geiger will be going into internal medicine and pediatrics, with hopes to pursue primary care or med-peds nephrology.
About the College
Founded in 2007, the University of Arizona College of Medicine – Phoenix inspires and trains exemplary physicians, scientists and leaders to optimize health and health care in Arizona and beyond. By cultivating collaborative research locally and globally, the college accelerates discovery in a number of critical areas — including cancer, stroke, traumatic brain injury and cardiovascular disease. Championed as a student-centric campus, the college has graduated 593 physicians, all of whom received exceptional training from nine clinical partners and more than 2,400 diverse faculty members. As the anchor to the Phoenix Biomedical Campus, which is projected to have an economic impact of $3.1 billion by 2025, the college prides itself on engaging with the community, fostering education, inclusion, access and advocacy.